Lexplore Examiners have permission to delete pupils. If you are not an Examiner, please contact the user with those credentials in your organisation who can assist you with this.
If you do have Examiner login credentials, here are three ways of removing a pupil from a class, the school, or organisation.
How to remove the pupil from the class, school, or organisation;
Log into the Results Portal. portal.lexplore.com
Filter down to the class.
Find and select the pupil you wish to delete. A cog will appear in the upper right corner. Click on the cog.




By clicking the cog you will be directed to the Admin page and pupil settings.


Scroll down to the bottom to find the option to "DELETE PUPIL".
When clicking "DELETE PUPIL" you can then select if you wish to delete the pupil from the class only, from the school, or even from the entire organisation. (The organisation in some cases can be an Academy Trust/District, it depends on how your Portal has been structured).

Type "delete" in the field provided and then click "CONFIRM".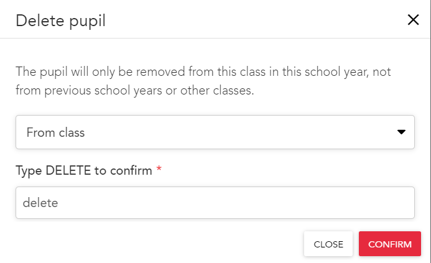 The pupil will then be deleted.
---
🛎️Here at Lexplore, we love to help our users with their questions and provide self-help guides for quicker service. Please vote below on the Question of whether or not this article was helpful. 😊