Attaching the Tobii magnets to the pupil monitor.
The magnets need to be attached to the external monitor, positioning them centrally along the bottom of the screen's frame. Once attached the magnets are difficult to remove, please try to get them as straight as possible on your first attempt.
1. Start by removing the two magnets found in the Tobii eye-tracker box. Peel off the adhesive tape from one of the magnets and stick it on top of the other one. It is important that they stick to each other straight.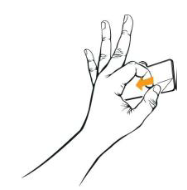 2. Peel off the adhesive tape from the now double magnet and attach it in the centre along the bottom edge of the pupil monitor. Once in place, press and hold them in position for about thirty seconds to ensure they adhere to the monitor frame.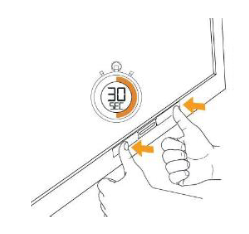 Please click here for further information about attaching the Tobii eye tracker to the magnets on the monitor.