More information if I have network problems.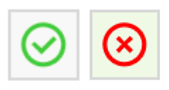 In the top right corner of the Testing Application, you will find the Application Diagnostic icon.
The function of this icon is to perform automatic self-tests to assist in technical troubleshooting. A green tick (checkmark) indicates that everything is running correctly. A red cross (X) indicates that something is wrong. Click the icon to see the issue. Most commonly, the Tobii eye tracker cable has not been plugged into the laptop/PC.
If you have network issues, the diagnostic tool will advise of this. To run a diagnostic, click on the red icon and a window will open. Press 'Start' in the bottom left corner of the window. When it has finished checking all the properties that might be causing an issue, click 'Copy to clipboard' and paste the information into an email to send to your IT personnel for further assistance. If the problem persists please contact Lexplore Support.