Following testing, the results are being uploaded to the Results Portal. Here is where all the pupils' results from the tests are collated.
The overall result for each pupil is presented in one of our five reading levels:
Low
Below Average
Average
Above Average
High
Each pupil is given an overall percentile score within one of five coloured levels ranging from 0-100 where 1 is a very low level and 100 is the highest result.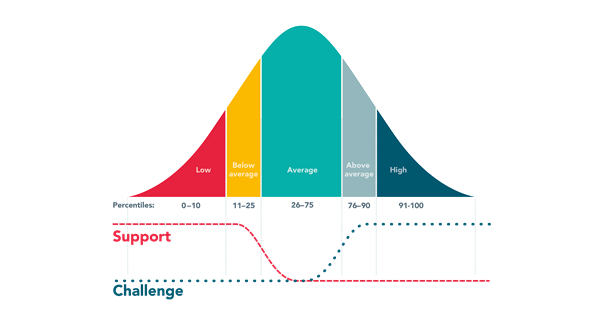 These are modeled across a normal distribution curve, where a pupil's overall percentile is compared to children in the same year group. Individual measurements are also given for each reading component and displayed alongside previous results, the school average, and the national average. Individual Measurement can be found in the pupil's Lexplore Score.
Results can be displayed on 5 levels:
Organisation level
School level
Class level
Pupil level and even by
Year group
It provides a clear overview of the pupils' reading ability at each level.
Within each pupil's reading profile, teachers can find a visual representation of the reading process by viewing the pupils' eye movement recordings, allowing them to watch and listen to pupils as they read.
The results are presented in Lexplore's secure Results Portal where user permissions control access to data.
---