During this spring, we have been working relentlessly to develop tools to support the reading development even further. The new digital reading platform supports reading development at your school or organisation. Connecting insights about reading, powered by AI (Artificial Intelligence), with proven reading exercises and books to enable your school to learn how the pupils' reading activities impact the reading progress and journey.
Teaser launch
24th of May
When you log in to Lexplore from the 24th of May you will notice some new features. These new features will be free of charge from 24th of May, through to September 2022. Additional features will also be announced before the official launch in Autumn.
What's new?
A New Pupil Profile Page
When accessing the individual pupil data you will see an overview of the pupil's development curve, the Lexplore Score, and how it relates to the reading levels based on percentiles and recommendations. You will also have a new chronological list of all activities as well as the assessment results. When choosing an assessment result to review, it will take you through to the results page you would normally see, so you can access the eye movement recordings and all other metrics.
Lexplore score graph – making it easier to understand the results
The new Lexplore score graph will help you understand how the Lexplore score and reading level based on percentiles are related. You will also be able to click on one of the assessment results and get a detailed view of that particular assessment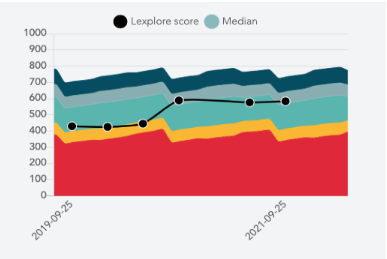 Reading Diary
Pupils will be able to access our new reading diary feature from within the Results Portal and log their reading activity.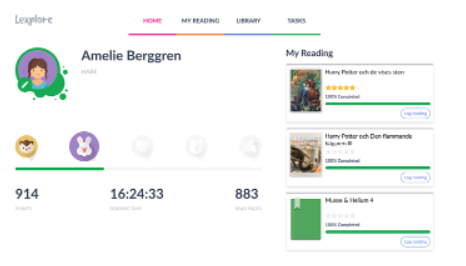 How it works
In the admin view you will be able to find a login link and QR code for each pupil. The log in link or the QR code can be sent to the pupil and when clicking the link or scanning the QR code they will be logged in automatically, without having to use any complicated email address or password. We also support pupil log in with our integrations, such as Google or Office 365.
Upcoming launches
Later, we will also launch additional features to the platform. These include an ebook library where books will be recommended based on the assessment results as well as reading activities, such as fluency training.